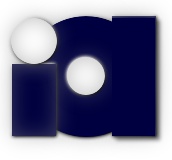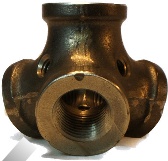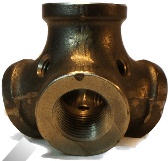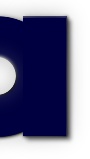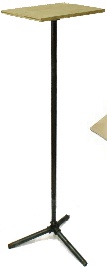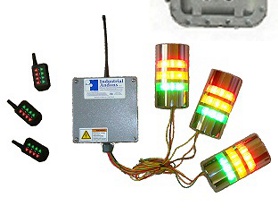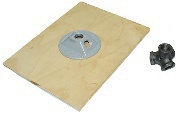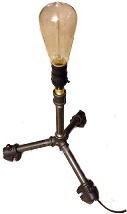 Basic Andon Visual Control Stack Lights
If you need simple visual control. We can provide you with options.
To the left is our simple 3 LED light andon stack light. Lights can be ordered continuous or flashing. You can also add an alarm that is tied to any one light.
Need 4 or 5 lights?
We can do that too!
This is a simple stack light. It is not upgradeable to our solutions. View our online store for pricing and order information or contact us for a quote.

If you need simple visual control with some added flexibility and upgradeability, this is your solution.
The base stacklight has 4 LED lights and is controlled by a small remote. The remote has a range up to 50 feet or more depending on the environment. The keyfob has a clip on the back and can be carried or secured. This light enables you to place the light at a more visable location while enabling your team members to stay at their work locations but still signal for assistance.

Down the road, you can upgrade your light by adding a wifi expansion board. This board allows you to collect data from your light and add our Shop Floor View system. The expansion board enables you to pass data over your existing wifi network. See our Solutions page for more information.

1-866-290-7551

est. 2000

We have invented two new cast iron components that enable you to build your own stand using your inventory of 1/2" black pipe! The Knuckle creates the tripod and the optional Foot enables the tripod to be secured in place if necessary. Use the Knuckle and Foot components to mount your andon equipment or make other creations like a Kaizen Desk!

Knuckle

Foot

Kaizen Desk Kit

Wood base is 1/2" unfinished cabinet grade plywood aproximately 12" x 10"

© Copyright 2018

Efficient Lean Manufacturing Solutions